Posted by Dave Bull at 8:57 AM, March 26, 2010
Today I received a few snapshots from the woodshop that is building the cases for the Mystique prints. This looks like such a fun job ... I wish I could be working on these!
No I don't.
Yes I do!
...
!
Anyway, here they are ... They are using paulownia wood for the main 'carcass'. We had discussed using a hardwood for the top panel, because I was a bit uncertain that paulownia would be strong enough after the deep slot was cut into it, but they came up with a tenoned style of construction that gives plenty of strength. This is going to save us a huge amount in shipping costs.
The guy is brushing glue over the tenon, ready to fit it into the slot on the side piece.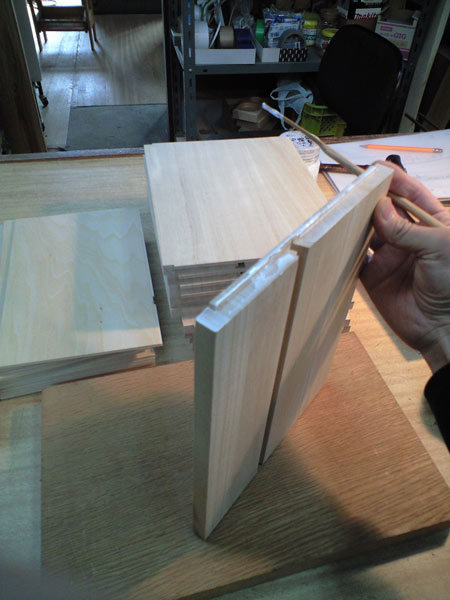 The cases are being made up in a 'square' shape, and get their rounding after the thing has been glued together.
We have a small problem in that the main batch of 200 isn't due to arrive here until the first week in April - after the exhibition - but I of course need one to show there. They originally said 'no can do', as they are doing everything in assembly line fashion, but I pushed a bit and they pulled some parts off the line and put one together for me.
They're going to send it over tomorrow, so I'll try and get some better shots then ...
But so much going on right now! I finished another two colour blocks for the first pair of prints this morning, but then had to put that aside because Ichikawa-san brought over another ten finished copies of the final Solitudes book, and I had to spend the rest of the afternoon getting those packed into their own paulownia boxes and then out the door.
Tomorrow is going to be the final day of preparation and packing for the exhibition - the rental truck and driver will be pulling up to the front door around Sunday noon, and off we'll go ...