Posted by Dave Bull at 12:33 PM, February 18, 2009
February again ... and tax time is here. Income taxes here in Japan must be paid by March 15th, so last week I fired up my bookkeeping software, punched in all of the waiting receipts, finished up the tabulations of last year's sales data, and sent the summaries off to the accountant who does my tax returns.
I do all the bookkeeping myself, but leave the tax calculation to the experts. Living and working in the same building brings a whole host of special twists and turns to the calculation, and there is simply no way that I can invest the time to try and understand it all.
In a newsletter story last spring, I showed the basic Income & Expense statement for the previous year (2007). It was pretty grim. Although I did indeed sell a whole pile of prints - just over $60,000 in all - I barely broke even for the year. There is no 'secret' as to where the problem lies - there are no frivolous expenses anywhere along the chain; it is simply that my prices are too low.
In that story I also described how I would try to pull things up over the coming year if I possibly could, and outlined a few ideas for doing that.
Well, a year has gone by, and it's time to put the new numbers on the table - the Income & Expenses for 2008. To help make the comparison, I've overlaid two charts. It first shows the 2007 figures, but rolling your mouse over the chart will 'flip' it to show the 2008 figures. (For those of you who think in US dollars, imagine these figures are in pennies, and you'll be fairly close (just about 8% too low, actually))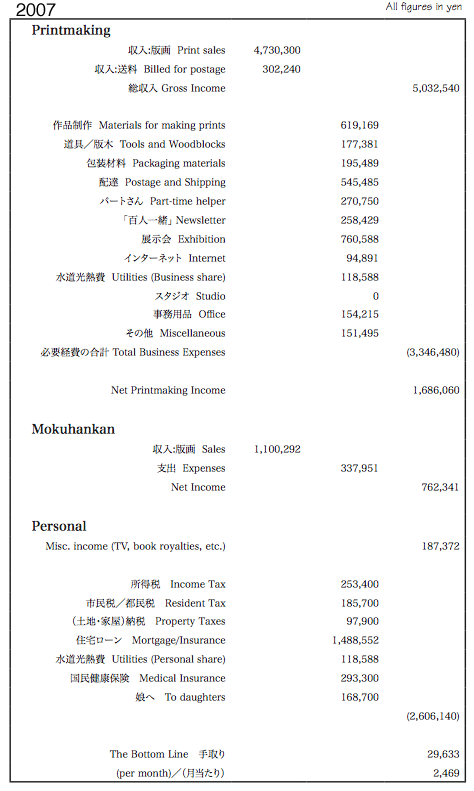 What's different?
Well, the first surprise for me was what was the same ... namely the sales figures, both for my regular prints, and for the Mokuhankan catalogue (listed separately in the chart). The inner details of the sales figures were actually up and down all over the place - I lost a couple of subscribers to the Grim Reaper last year, domestic sales were down quite a bit, foreign sales were up, quite a number of back-issue subscribers came to the end of their series - so the yearly total could actually have gone in any direction, and to find that it was actually stable was quite a relief. I didn't increase sales, but in this current climate, not to have them collapse was quite an achievement!
The expenses show a different story. These I have much more control over, and I was determined through the year to keep them down as much as possible. I didn't really have a lot of room to move with most of them, but cancelling the January 2009 exhibition made a huge difference. (Many of the exhibition expenses are actually booked in the previous year). All in all, I managed to cut expenses by around 800,000 yen, and that cutback amount went straight to the bottom line.
That's the good news ... The bad news is that because I made a profit, I am now back over the minimum level for taxation, and I will have to pay a good chunk of that out in taxes now. If I had known in advance, I would have used the money for business-related expenses - maybe stocked up on some more paper - but it's too late for that!
The next big question is of course - what next? As is completely obvious, we are in the early stages of what is almost certainly going to be a very severe, and very long, depression. No 'recession' about it. It's 'game over' for the good times for at least a decade, I believe. There were simply too many fundamentally unstable factors in the economic situation, a crash of this sort was inevitable at some point, and it is going to take a very long time to find a new stability.
So what's a printmaker to do? Woodblock prints are completely frivolous items, and if too many of my collectors lose their employment, it will of course have an impact on me too. But even if most of them can hang on through 2009, for the final four prints in the 'My Solitudes' project, what will happen next?
I had actually been toying with the idea of producing a number of large-scale versions of some of the Solitudes designs, but - given the current climate - I think that 'large-scale' may not be such a good idea. Whatever I produce next is going to have to be first and foremost ... affordable.
As we are already seeing, some businesses are managing to be successful in this new environment - those that offer good value (defined as a desirable product at a reachable price). I'm sure I can produce the 'desirable product' part of the equation, but I'm not sure about the 'reachable price' part. And indeed, what price is 'reachable' when so many people are going to be out of a job themselves ...
Anyway, cross that bridge when we get there; for now, I have to focus on getting these next four prints designed, cut, printed, and out the door!