Posted by Dave Bull at 7:57 PM, January 14, 2009
Carving work on the 'Seacoast in Winter' print is steadily progressing, interrupted as usual by any number of other jobs competing for attention. Today saw a pretty big one of those ...
A couple of months back, I did an inventory of my paper stock for this series, to work out how many more sheets I needed in order to complete the rest of the series, and placed an order with Iwano-san for them - 150 sheets of Echizen Hosho washi, in the 'takenaga' dimension. They arrived a few days ago, along with the bill, for 236,000 yen ... (around $2600 US at today's exchange rate ...)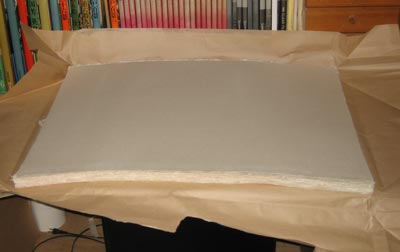 The paper in this 'raw' state cannot be used; it must be sized. This is a special skill all its own, and I will send this package straight off to Misawa-san, the last craftsman here in Tokyo who still does this work.
At least that's what I should be doing; unfortunately the process is no longer quite so simple. Here is a sample of a sheet from the previous batch of this same type of paper, which he sized for me just over a year ago: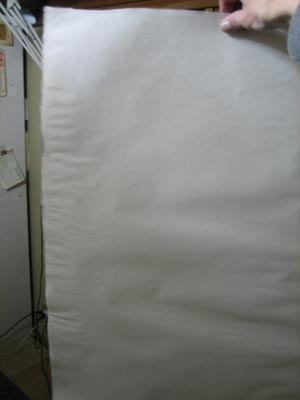 Incredible. The sizing was hard, brittle and uneven. The sheets were dried too quickly and became severely buckled and distorted. I called him right away to find out what had happened, but he had no excuse. It seems though, that the problem lay in the large width of these sheets. Sizing must be done in one continuous brush stroke across each sheet, and he has a collection of very large brushes for just this purpose.
But a brush this wide - full of hot size - is very heavy, and he is not so young ... It is also possible (this is just a guess) that his large brushes are getting worn out, and as he is nearing retirement, and a brush of this width would cost a great deal of money to have made to order, he is using them beyond the point where they can do the job properly.
Whatever the reason, the batch of paper had been effectively destroyed. Ordering more was out of the question; to throw away that much money was just not possible. I had to try and use it. I cut the paper into the smaller dimension required for the prints, and tried to salvage what I could. I used a shallow pan with warm water, soaked each sheet to try and wash out some of the size, and then dried each one on boards.
I got most of the worst of it out, but all through the rest of the printing work on the next few prints, kept getting results like this when I dried out the finished print:
So, what to do this time? I called him to discuss it, outlining clearly to him that there could be no repetition of the previous disaster. He suggested that cutting the sheets in half would make things go easier, as he could use a much smaller brush (working in single strokes along the narrow dimension of the half-sheets). This seemed like a reasonable option, until I asked him how this would affect the price for the job. (He is paid by the sheet, and the previous job had been priced at 150 yen per sheet.) He replied that the price wouldn't change; it would stay at 150 yen per sheet. My cost would thus double, as instead of 150 sheets at 150 yen each, I would now have 300 sheets at 150 yen each. When I protested that this was only happening because of his ... (I avoided using the word 'incompetence') ... he offered a 'discount'. He would do it for 130 yen per 'sheet', adding another 39,000 yen to my bill ... ($400+)
So, that's my job this afternoon and evening - cutting this paper in half ready for him to work on. Why such a long time just to cut 150 sheets of paper in half?
More fun and games ...
This paper is made in the traditional way, with the fibre mix dipped from the vat, and rocked on a bamboo screen. The structure of the screen is visible in the finished paper, in the form of 'laid lines' at approximately 3 cm intervals: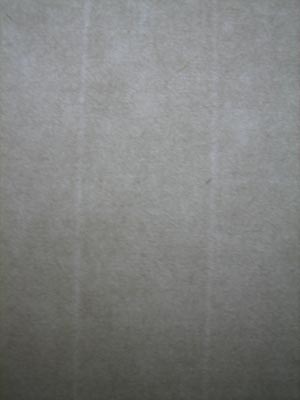 You can also see the faint lines in the image of the print above.
Back in the 'old days' (say, when I first came to Japan nearly 30 years ago) these lines were always perfectly ordered and parallel with the edges of the raw sheet. But more recently, this is not so. The equipment used by many of the papermakers, even famous ones like Iwano-san, is getting very old and rundown. It seems that the frame that this paper was rocked on is apparently no longer 'tight', and the lines left by the bamboo screen vary from one sheet to the next, sometimes perfectly vertical, sometimes leaning to one side or the other.
So if I stack the paper up and cut them a few dozen at a time, those lines in the paper will not be vertical on most of the finished prints. There is no way around it; I have to take the sheets one by one from the pile, place them on a dark surface so that I can see the faint lines, and then slice them at the correct angle to make the lines vertical in my finished prints ... 150 sheets, around a minute for each one ... a nice waste of nearly three hours ...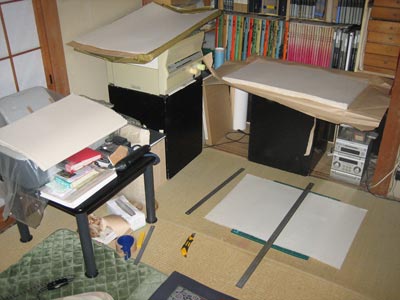 And how is the paper itself this time? Mixed.
It's useable, but there is plenty of bark still left in there - something that would have been inconceivable in paper from a 'Living National Treasure' not so very long ago ...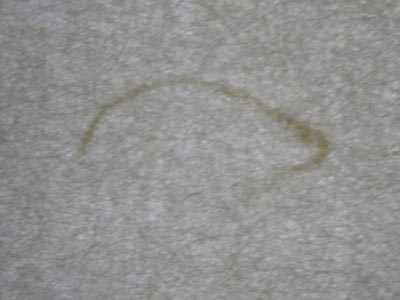 But enough complaining. It's not so bad, and it's still 'hosho washi'. The finished prints will still last hundreds of years, gradually developing a beautiful patina as they age ... (If I ever get them finished!)