Posted by Dave Bull at 5:33 PM, December 31, 2008
My new year 'cards' flew away around a week ago, and I'm already getting 'Got it!' reports from here and there. Those sent to addresses in Japan will all be delivered early tomorrow morning - New Year's Day - as that's how the post office here does it, but overseas ones of course arrive at random times ...
I thought it might be interesting to show the blocks ... in closeup! (All these images can be clicked to bring up enlargements.)
I used a special piece of wood for the keyblock this time; a wide piece of boxwood I prepared some years back and which has been 'curing' here on a shelf since then. It's made of two pieces of boxwood jointed together, and laminated to a firm piece of plywood for stability.
I used this wood for both the keyblock, and for the block used to make the karazuri (embossing). The two carved images are placed 'heads and tails' on the wood, with two sets of registration marks. (The funny white 'halo' around the black area is from my attempt to improve the visibility of the deep black area with Photoshop.)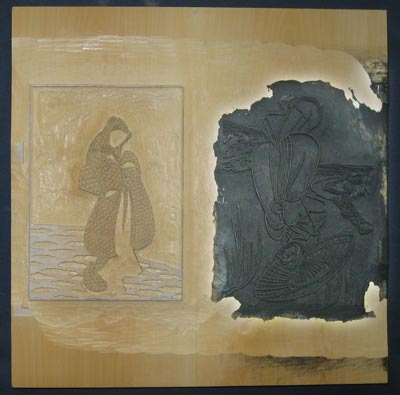 Here are closer images of the two areas; first the keyblock: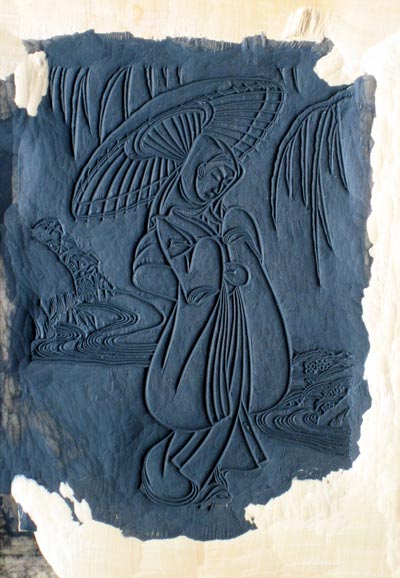 And then the karazuri: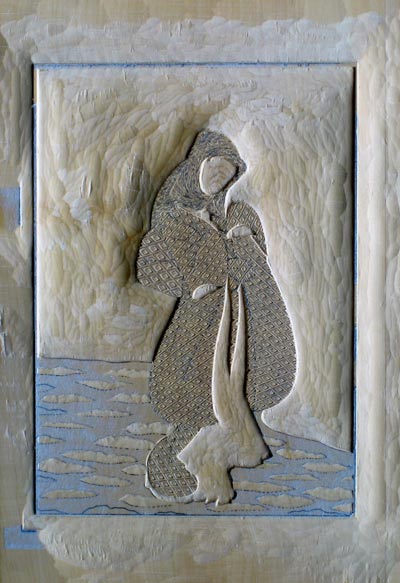 At the time I took those pictures, no prints had yet been made. The keyblock is black because I used it to print a set of kyogo (colour separation sheets). And I also did some cleaning up after that, so the edge of the blackened area is ragged. (That block has since become completely blackened ...)
The karazuri block has not yet been washed, and still shows the paper of the hanshita ...
Here are the six colour blocks. Two pieces of wood, one used on both sides. Again 'heads and tails' with two sets of registration marks. You can see remnants of the kyogo sheets visible, as they haven't been washed at this point.

I printed 192 sheets in the first run (12 sheets of oh-biru size hosho paper, with 16 cut from each sheet). Registration was extremely tight, as many of the lines of the keyblock are on the order of 0.1mm wide. There is absolutely no margin for error. To help minimize problems, I 'painted' the corner of the paper with nail polish, so that it would 'click' into the registration mark securely. (If you are receiving one of these prints, you can touch the bottom right corner to test this ...) I also put a touch of the polish at the place where the paper rests against the other registration mark.
As for an image of the print itself, it's still too early for me to show that, but it will be uploaded to my New Year Cards page on the morning of the 1st ...