« [River in Summer - 15] - Impressions 4~6 | Main | [River in Summer - 16] - Impressions 7~10 »

Current Print - Progress Slideshow
Posted by Dave Bull at 9:22 AM, June 3, 2007
A transition/slideshow of all the progress images for the 'River in Summer' print is now online!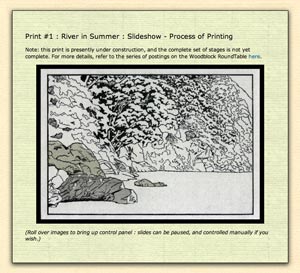 Discussion
Following comment posted by: Barbara on June 3, 2007 11:37 PM
Dave,
this is amazing...to see this happen like this...what a great teaching tool!
Barbara

Following comment posted by: Dave Leonnig (Barbara's brother in Texas) on June 6, 2007 2:30 PM
This is great. So much of what we see today is in stages, but the stages are hardly worth celebrating or remembering. I found myself drawn to the process, and since the print looked great to me after a few steps, each successive layer was illuminating. I especially liked it when the water was added. It was almost as if that was the depth that my eye needed to bring out some of the perspective that was already present.
Very neat, and I second Barbara's comments on this as a teaching tool. I am saddened that so much teaching today makes the student connect the dots, especially where computers are concerned. So much art today lacks perspective - both in its creation and its explanation - and this shows the depth an artist can go to in perfecting his work.


Add Your Input