Japanese Art with a Canadian Touch
A British-born artist from Canada is holding an exhibition of his 60 works of ukiyoe woodblock prints, part of his 10-year project to carve and print the Hyakunin Isshu poem collection.
Hyakunin Isshu is a set of 100 cards featuring 100 selected poems along with portraits of the poets who composed them.
Having lived in suburban Tokyo for nine years, David Bull has produced 10 prints a year since 1989 based on the original prints of Katsukawa Shunsho, an ukiyoe painter from the Edo Era.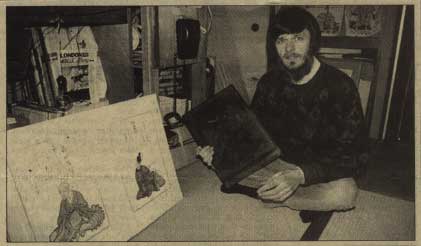 In the Edo era, ukiyoe was produced by a painter, a carver, and a printer under the organization of a publisher.
The exhibition of the prints by David Bull will be held at the Grand Gallery Osaka from Jan. 30 to Feb. 4, following a recent Tokyo exhibition.
Born in Britain and brought up in Canada, Bull came across ukiyoe prints at a Toronto gallery while he was working for a music instrument leasing company.
Bull and his then wife toured Japan in 1981 and visited woodblock carvers in Asakusa Tokyo, with the hope of some day learning the craft. He moved to Japan with his family in July 1986 and started studying carving and printing techniques while earning a living by teaching English.
His 10-year Hyakunin Isshu project was initiated after he first saw Shunsho's paintings for the poem collection. He held the first exhibition in 1990. His works gradually gained recognition, and last year's exhibition sold 72 sets of 10 prints for 100,000 a set.
Bull says "Shunsho's work is actually very unusual; in most ukiyoe we can't see the personality, but in these portraits we can see the subject's deep personality."
"The old master carvers could carve lines that dance on the page. My lines don't move yet," he says.