One-point Lesson : Block Shrinkage
Lesson #34: Block shrinkage trouble ...
(Another in an infinite series by Dave on : 'How not to do it ...')
Exhibit #1: a typical ukiyo-e print. There are quite a number of colours in this print, about 12 I think. This is nothing unusual for ukiyo-e ... What is also not unusual is the way that a great deal of the paper is left untouched - unlike most western oil painting, the ukiyo-e designers had no compulsion to fill their entire 'canvas'. But 12 colours means that this print needs rather a lot of blocks ...
Exhibit #2: the key block from which the above print was made. It is shown here in the horizontal position from which prints are pulled from it - the L-mark visible on one lower corner of the print fits into a notch carved in the key block ...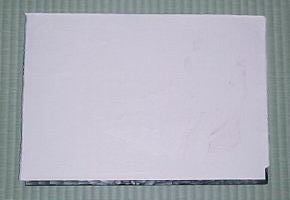 ... like this.
Exhibit #3: Here is one of the colour blocks for the print. Although not visible in this poor photo, there is a matching L-shaped registration mark in the same lower right hand corner. This is what all the colour blocks should look like, but in my eagerness to do things in a 'better' way, I figured that I could save myself a bit of money (a lot of money, actually), by turning the design sideways on the wood, and thus fitting in two colour areas on each face of the wood.

Like this ...
I was able to do it this way because the top area of the print was mostly empty white space, and even though the paper would hang over the edge of the wood while I was printing, it didn't matter, because that area was blank.
So I did the printing that way, placing a small piece of wood under that overhang at the left, to stop the paper from becoming soiled on my printing bench. It all worked pretty well, and I patted myself on the back - congratulating myself on saving some money ... and some 'tree'.
Fast forward ten years - time to pull this set of blocks out of the closet and print another edition from them. The blocks are clean and dry from their long storage, and seem perfect ... But when I do the test printing I find that my 'savings' have been no saving at all. During the ten years, the wood aged and dried out a bit, and of course as it dried it shrunk slightly. All the shrinking though, has taken place across the width of the planks - the length has not changed. And of course, because the key block and a couple of the colour blocks are cut 'along' the grain, while other colour blocks are cut 'across' the grain, the registration is hopelessly scrambled ...
The 'lesson' - one that should have been obvious to me ten years ago - is to never mix and match grain direction in the set of blocks for a print!
(So what did I do - throw them away and carve another set? No ... as I describe in the 'Troubleshooting' section of this Encyclopedia - I decided to treat them to a bath!)