The "Where's Boots?" Contest
Over on the Webcam Q&A Page I introduced 'Boots' - the cat who lives a couple of doors down the street and who frequently visits my workroom.
In that photo she's causing trouble while I am carving, but recently she has learned that she isn't allowed up on the workbenches, so is now welcome to visit anytime she wants. Here she comes just 'passing by' on her way to inspect the back of the closet ...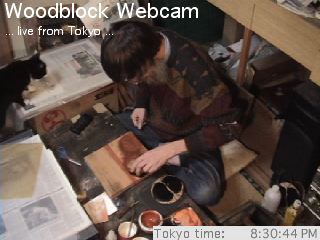 Because the webcam only catches one shot every ten or twelve seconds, she sometimes comes and goes without viewers noticing. Occasionally though, she gets 'in the picture' ... (she's difficult to see, but her white feet are the giveaway ...)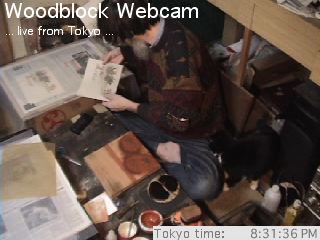 A bit difficult to see her? Hmmm ... That gives me an idea ... Let's have a bit of fun with this! Announcing the "Where's Boots?" contest. The rules are very simple:
Keep an eye out for Boots whenever you are viewing the Woodblock Webcam.
If you think you see her, make a note of the time (shown in each frame at the lower right corner).
Drop me a line letting me know of the 'sighting'.
I'll check with the archive of stored webcam shots, and if Boots is there, I'll send you one of my postcard prints as a reward ...
She's not always so difficult to see ... sometimes she gets front and center!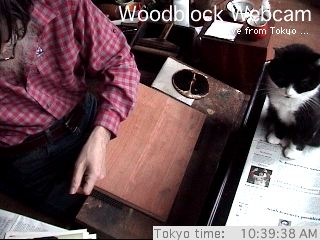 So this is a pretty simple contest I think ... although it's kind of like whale watching - there are no guarantees! But when winter comes on, we start to see images like this one more frequently ... she's found a good warm place to sleep in this cold house, complete with rocking action!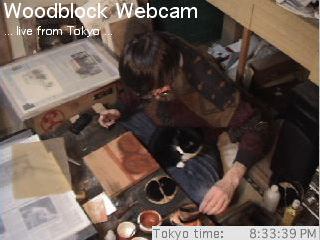 [Note from Dave: Boots-chan passed away in December of 2010, so the contest is of course no longer active. Over on the A Story a Week website, there are a number of stories about her that you can read, identified in this list with the little Boots icon.]