Introduction to 'A Catalogue of the Colour Woodcuts of John Edgar Platt', published to accompany an exhibition of his work held at the 20th Century Gallery in London in November/December 1999.
It is a happy occurrence when a skilful printmaker is also a master of design and a gifted artist. John Platt displays this combination of qualities and is rightly judged to hold an eminent position in the area of British colour woodcut printmaking.
Although not initially destined for an artistic career, Platt studied at the Royal College of Art and took up a teaching post in 1910. He continued to sketch and paint, especially on holidays in coastal areas when he could exercise his interest in marine subjects. He also undertook commissions for murals and industrial design, the most important being his decorations for All Saints Church in Leek, Staffordshire.
Platt had a thorough and meticulous approach to the technical skills associated with all aspects of artistic production. He was therefore well suited to printmaking and was particularly drawn to the technique of colour woodcut in the Japanese manner which had recently been promoted in Britain. Platt had always had an interest in early Japanese colour woodblock prints and he and his wife owned a small collection as well as various books on the subject. The potential of the technique appealed to him and, apart from executing a few highly competent line engravings around 1930, Platt devoted his print production almost entirely to colour woodcuts. He soon established a reputation both at home and abroad as one of the major artists in this medium.
The colour prints he produced are astonishing in their vibrancy and quality and were described by one critic at the time as "a gamut of singing hues". Platt had adapted the Japanese aesthetic to suit his own artistic style and he was highly praised by Campbell Dodgson, (the Keeper of the British Museum's print collection from 1912 - 1932) for achieving a successful blend of Eastern technique with Western design. However, Platt's development towards an ever more simplified stylistic approach to his woodcuts indicates his understanding of the fundamental elements of design in Japanese woodblock printmaking and their relevance to contemporary art. He articulated this in a lecture to students around 1924:
The effects most readily expressed in woodblock printmaking are just those which have always interested the artists of the Far East, that is emphatic expression of the subject by selection and arrangement of essentials and the suppression of all that is irrelevant. It is interesting that this method as perfected by the Japanese has now become available for Western artists just at a time when its particular character is in accord with the current ideas and aims of Western art.
By the late l930s Platt had produced a series of works which stand as some of the finest examples in the medium. His fellow woodcut artist Allen Seaby was moved to remark, "There is no doubt that in your hands the wood print has been raised far above its former status." Paradoxically, it was around this time, at the end of the 1930s, that the popularity of the colour woodcut declined in Britain alongside a general lack of public interest in prints. Platt's own production of prints was also on the wane.
Platt's approach to art never lost the ethos of skilled craftsmanship. Whilst he was Principal at Leicester School of Art in the 1920s he had forged valuable ties with industry, consulting with employers, forming advisory committees, equipping classrooms with the necessary machines and selecting craft teachers with industrial backgrounds. Platt was also instrumental in promoting colour woodcut printmaking at Leicester and invited Yoshijuro Urushibara, a Japanese artist who had learnt the craft of woodblock printmaking in Tokyo, to demonstrate the technique to his students.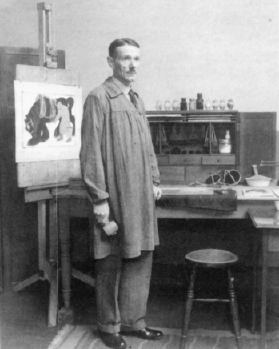 In spite of many onerous academic commitments Platt maintained a steady flow of prints and paintings for over thirty years. This was due in part to his ability to sustain long hours of laborious work and his son Michael has vivid memories of the sound of mallet on chisel as Platt worked on his woodblocks far into the night. When he eventually came to London in 1929 to take up the post as Principal of Blackheath School of Art, he negotiated a part-time situation to enable him to continue with his printmaking. His private studio was on the top floor of the college building but students were still allowed to visit him while he worked; as always Platt was a conscientious teacher; imparting his skills and knowledge with generosity and patience.
The second world war eventually put an end to Platt's print production and marked the cessation of his teaching career. As an official war artist to the Ministry of War Transport, he was now fully occupied with painting and he rose to the task in hand to record faithfully the naval craft and the naval engagements of wartime Britain. Platt's later years were spent coping with ill health and the loss of his wife. Some paintings were produced but no prints after a colour woodcut which recorded the celebrations of V-Day.
John Platt's colour woodcuts mark a short but important phase in British printmaking: a period when an external and foreign influence stimulated a new decorative and inventive approach to the use of colour. Of all those who responded to this influence, it is perhaps Platt who produced not only the greatest examples of skill and technical brilliance, but some of the most memorable images.