To catch a thief ...
It's now mid-June and we're coming into the rainy season here in Tokyo, which means that the hot hot days of summer are not far off. It's time to get my 'Green Curtain' ready again. I got out the pole and net system that I use to support the curtain, and with the help of one of the young ladies here for printing training, got it all assembled. No more than a few days later, the yabugarashi (Bushkiller) had started to make its climb ...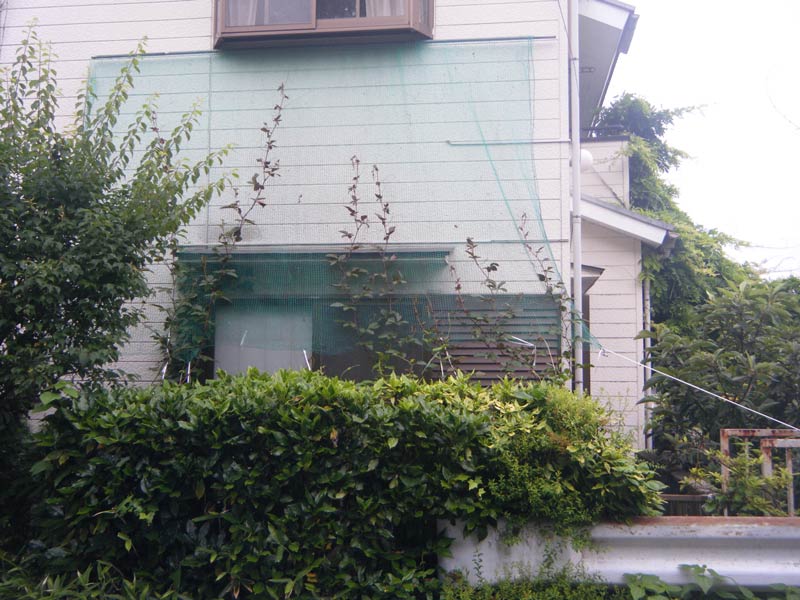 And as this is the season for loquats, I had a look at how our little loquat tree is doing. It's off at the right side of that previous image; the tree itself is actually growing from one level down, and we can just see the top of it up at street level.
And yes, it looks like we will have a nice healthy crop this year!
But what's this?! Somebody has been helping themselves to samples!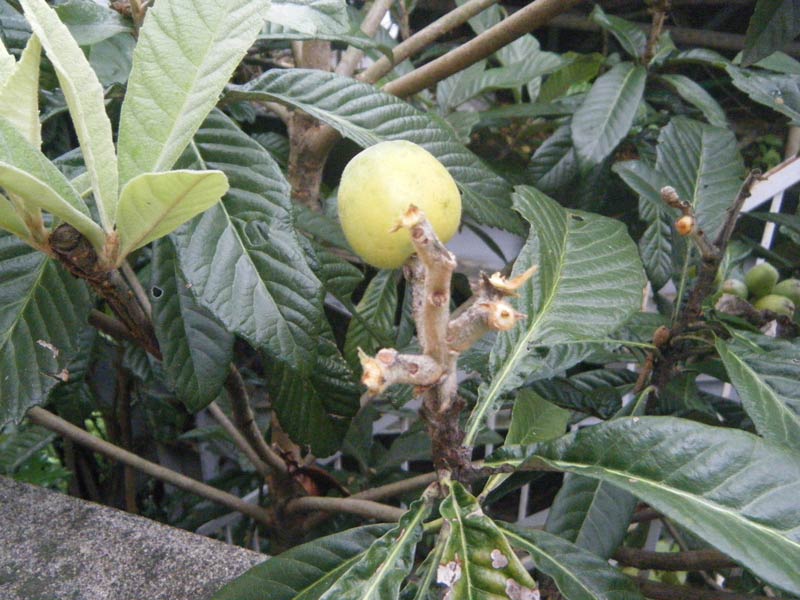 I at first assumed that it was perhaps a passer-by who had pilfered a little snack, but it seems just a bit too far to reach from the street, and I can't imagine somebody would actually climb over the fence to do this.
But I then noticed - on the ground just below the missing clump - a bunch of discarded skins ...
Aha! It seems we probably have a nocturnal visitor of the four-legged kind! It can't be birds, as they couldn't leave such empty skins; it must be something with 'hands', able to pluck the fruit, suck the inside out, and then toss away the skin. Any guesses?
Well, I have an idea how we can find out who it is ... Looking upward from the loquat tree, it just so happens that we have an outdoor light there.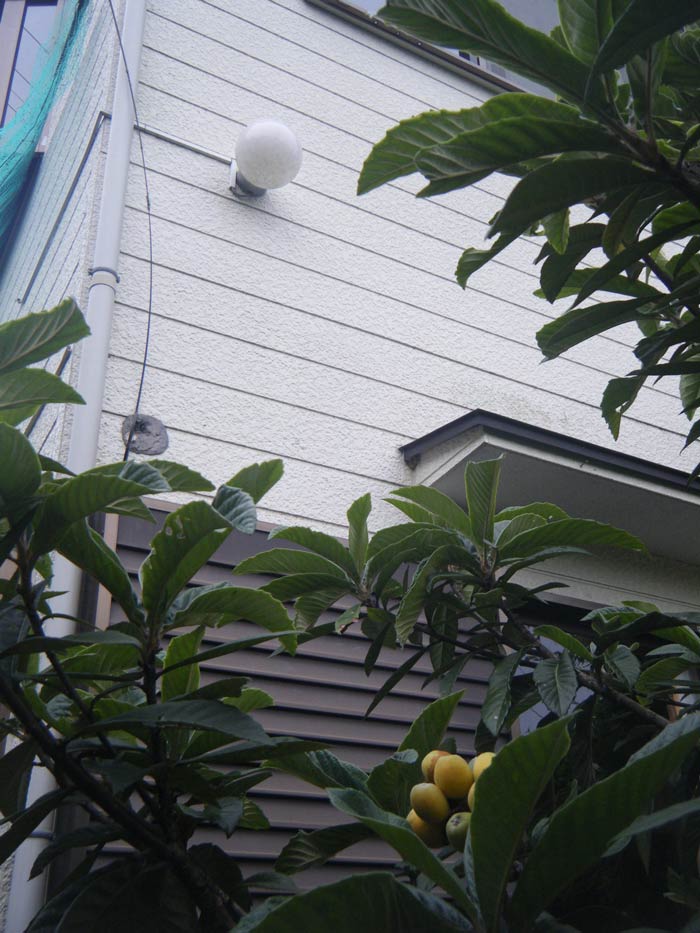 It's not a very strong bulb, but perhaps it might be enough to provide illumination for ... my little Recolo stop-motion camera!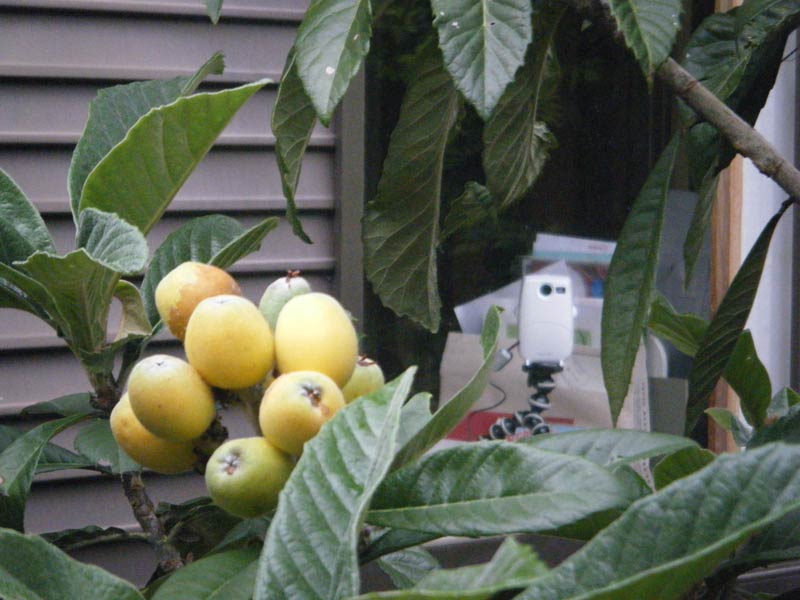 So last night I set it up on my desk just inside the window, positioned to catch a view of the concrete ledge that abuts the loquat. The red arrow points to that clump with one single fruit left ...
I turned it on before going to bed, set to catch one frame every three seconds ...
And here's a clip from the resulting video (with excellent 'low light' enhancing added by YouTube) ...
Did you see it zip by? He came in and stole that single fruit first, then returned a few seconds later and climbed up into the tree out of video range ...
Let's look at a couple of stills ...
Luckily, at one point he turned to look towards the camera, and we got a view of the white stripe down his nose ... which - combined with the overall size and body shape - is enough to identify him.
He's a Masked Palm Civet, which is not native to Japan, but which is a species brought here for the fur business many years ago. Some escaped, and they are now all over Honshu. I actually caught sight of one from my balcony a while back, and was able to identify it with some help from an internet group.
Here's an image from a Google search that shows one in a similar pose:
He is of course quite welcome to come and eat these things; I'd much rather have the wildlife than the fruit!

Update! The next night, I had just set the Recolo camera in place, and was sitting at my computer writing an email, when I heard rustling in the tree. It seems he was too hungry to wait until the town was all asleep! I quickly grabbed my 'real' video camera, and snuck quietly to the opening in the shoji screen. It was difficult to aim the camera properly, as it was too dark to see the viewfinder, but I managed to catch him for a few seconds, until he was scared off by a passing car ...